Hangzhou Antex Co.,Ltd. is a fabric manufacturer and worldwide distributor. The company is built in 2006. Our brand is SohoCUT which is registered in China、Europe、USA and North America. We are specialized in upholstery fabrics and drapery fabrics. We have a team with 50people and 5000m2 workshop. We have 50 Jacquard machines. Our main market is China, Russia, American, Canada and Germany. We also exprort to markets of Middle East, Indonesia, Singapore, India and Columbia. Our main customers are the best retailers/designers/furniture manufactures in China, Daylight/Liontex in Russia, Silkcraft in USA,Pkaufmann in USA, Master fabrics in Canada, Christian Fischbacher in Europe etc. Rely on first class quality and services, we have been building strong relationships with them from customers to partners.The mutual relationship creates big chances on products developments、sales channels、quality control 、shipping consolidations for each other. We also help our international customers to find right products and suppliers from China. Then offer service for them with warehouse storage and quality control. These services greatly ensured their products spread out to their market with unique designs and great quality.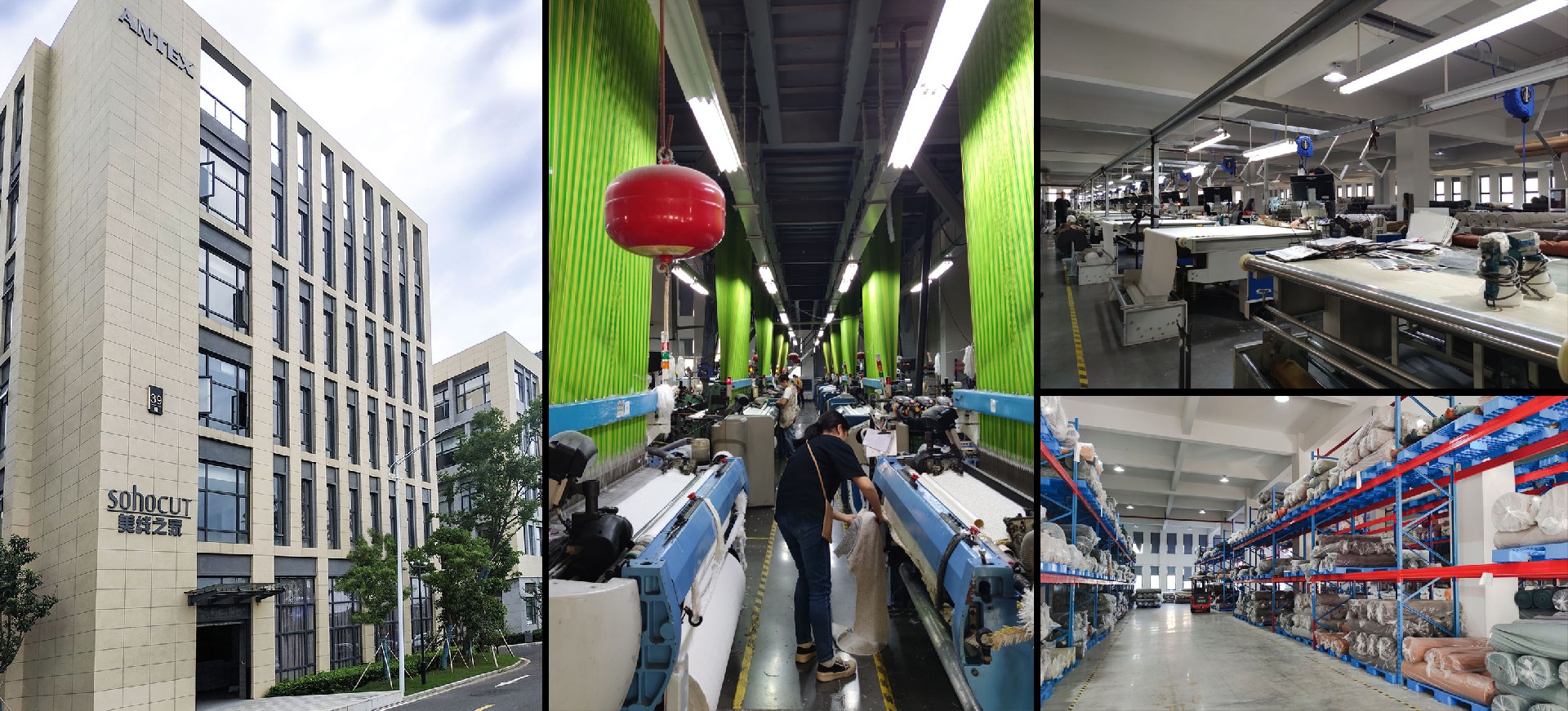 We have been importing fabrics from Italy, Turkey, India and USA for luxury fabrics. We are importing from companies like Mario Cavelli in Italy、Versace19.69 in Italy、Supertex in Turkey、 Silkcraft in USA、Rumors in India、RR Décor in India etc. Then we are selling these highend fabrics mainly in China market. Plux export these fabrics to international countries. We are one of the biggest importers in China for jobber business. Next step, we are importing more and more fabrics from overseas countries by bigger volumes.(Our Partners)For the last 10 years, we have built a big range products with thousands of different styles and colors, hundreds of new additions each year, prices for every budget, and service and delivery times that are second to none, we look forward to making your life more beautiful, no matter where your design needs live. Our values have lead us to the forefront of industry trends, where we can best satisfy our customer's tastes and needs.
Except our wholesale collections by containers, we also stocking in China and offer cut-length services all over the world. Nowadays the stocking quantity has been increasing to half million meters. We guarantee 3years to 7years continuity for strong support to our partners. We have built systems for both jobber business and wholesaler business. We have joint venture relationships with designers from USA and Europe which make our fabrics from original creations to bright your eyes. You can find fabrics in our collections with natural fibers like Linen、Wool、Cotton、Silk which is a natural fashion now and for future. You can find fabrics like plains、embroideries、jacquard and printing etc which is making the designers and customers have splendid selections to satisfy any requirements.
We are presenting here with collections which we keep stock for at least 3years and don't need minimum. We have prices for both by cut and by minimum. The collections are as following:
1) American styles jacquard, printing,embroidery plus solid fabrics. We have story books 21 collections. It has 2000SKUS.
2) Sheers, 7 collections with high end quality.
3) Solid fabrics, 16collections, with both wide and narrow width, we have more than 1000skus.
We are trying to find customers in Asian countries. Offering best quality and services are our culture to our partners. We can work very flexible as partners for long time relationship.